Betway South Africa
SUMMARY
Betway South Africa is one of the most renown and popular betting sites in South Africa. With great odds and markets, as well as bonus and promotions.
DETAILED RATING
Betway South Africa is becoming more and more popular among our South African players. Initially offered as an international product, it has now regionalized and turned into a local South African bookmaker. South Africans can enjoy free welcome bonuses, promotions and high odds. In this review we'll give you the ins and outs of Betway South Africa.
The brand comes from the established Betway UK operator. This allows Betway South Africa to operate with the same processes and procedures like Betway UK. Betway South Africa has done a big push in advertising in the country, such as on Supersport and SABC. It's a brand that's experiencing great growth with a superb product.
You'll be pleased to hear that you can register with ZAR currency and use your bank app to make quick deposits and withdrawals. They also recently lowered the minimum bet limit to R1!
These methods are available for deposits:
Visa & Mastercard
i-Pay Ozow
1Voucher
Kazang
OTT Voucher
FNB Transfer
ABSA Bank Transfer
Standard Bank Transfer
Nedbank Transfer
SID
These methods are available for withdrawals:
EFT
FNB eWallet
ABSA CashSend
To start betting at Betway South Africa, all you need is a Betway account. It's easy and simple to register your Betway South Africa, as long as you follow the below instructions. Remember that you need to be at least 18 years of age to bet at Betway South Africa.
Time Needed : 2 minutes
Click on Sign Up

On the Betway homepage, click on the Sign Up button in the top-right corner to begin the Betway Register process.



Enter your contact details

Enter your South African mobile number, preferred password, first name, last name and click on Next.



Enter your personal details

Enter your South African ID number (or click to choose Passport), date of birth, select source of income and click Register.



Your Betway Register is now complete

At this point your Betway registration is completed and you'll see a pop-up window displaying your Betway account number.


All it takes is about 2 minutes to complete the Betway register process. Once you're in, all you need to do is deposit and start playing.
If you run in to any issues during the Betway registration process, just click on the chat icon in the top-right corner and you'll get live support.
You can save your Betway South Africa details to auto Betway login. This way you'll always be logged in when you go to the website. However if you're using a shared and/or public device you might want to log out. The below is a guide on Betway Login.
Go to the sportsbook; Betway Login
Enter your mobile number and password
Click on Login
That's all you need to do to login at Betway South Africa.
Betway is the best betting sites in South Africa and has one of the best betting apps on the market. It's available for both Android and iOS. Much like the desktop version, you have access to all the features on the Betway app. All the regular tabs and categories are embedded within the Betway app to cater for the best user experience.
To download the Betway app, just click here using your phone. You will be redirected to the Betway Mobile version that prompts you to download the Betway app. The Betway app will be downloaded as a .apk file that you can install on your mobile device. The app is unfortunately not available on Google Play Store.
INSTALL THE BETWAY ANDROID APP
Once you've downloaded the Betway app for Android, you will need to install it. Just follow the simple steps below to install the app.
Go to the Betway South Africa website on your mobile device
Click on Download Android App
Go to your mobile settings and click on 'Allow unknown applications'.
When the download is finished, click on it to install the Betway Android App
INSTALL THE BETWAY iOS APP
Installing the Betway app for iOS is a lot simpler than installing it on Android and other devices. All you need to do is:
Register your Betway account
Go to the app store and search for Betway
Download the app
The Betway app for iOS is a native app that works perfectly on any iOS device.
One of the best aspects of Betway South Africa is the great promotions that are run daily. In today's South Africa with inflation, load shedding and water shortage, you'll find some comfort in getting some extra for your money.
We've included some of the most popular Betway promotions and bonuses for your convenience.
Add six or more selections to your Multi Bet betslip and if one of your selections lets you down, Betway will refund up to 20x your bet. The more matches you add, the bigger your bet refund if you lose.
Bet refunds will work as follows:
| | | |
| --- | --- | --- |
| Number of selections | Minimum odds | Bet Returned |
| 6 to 10 | 1.5 per selection | 100% bet refund |
| 11 to 15 | 1.3 per selection | 200% bet refund |
| 16 to 20 | 1.3 per selection | 10x bet refund |
| 21 or more | 1.3 per selection | 20x bet refund |
Only betslips that lose by one selection will qualify for a bet refund.
Extra Bets do not apply.
A valid Betway account is required to participate in this promotion.
Multi Bet betslips with 6-10 selections must have odds of at least 1.5 per selection to qualify and Multi Bet betslips with 11+ selections must have odds of at least 1.3 per selection to qualify. Not all selections in the betslip need to meet the minimum odds requirements, however only selections that meet the requirements will qualify.
Extra Bets will not qualify.
Stake refunds will be credited as cash.
The refund is only valid if your Multi Bet loses due to a single event.
All pre-match, live and outright selections will qualify
Any betting markets that can either result in the customer having their stake returned or generate a partial win will be considered a winning bet e.g. Draw No Bet.
If a match is cancelled, postponed or voided it will not contribute to the number of selections in the betslip, but will not disqualify the betslip entirely. If the number of matches on the betslip drops below six, the betslip no longer qualifies for a refund.
Bets that are Cashed Out do not qualify for the refund.
Irregular play at Betway will be cause for an instant dismissal from any Promotion.
Standard participation requirements and terms and conditions apply.
All entries from disqualified participants' cellphone numbers will be rejected.
SELECT YOUR DRAW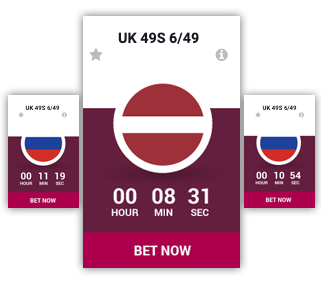 Betway welcomes you to register and choose from their extensive list of international Lucky Numbers draws. Numerous Lucky Numbers draws take place on a daily basis offering you the chance to win every day of the week. To begin, select which draw you would like to play by clicking on the "BET NOW" button.
CHOOSE YOUR WINNING NUMBER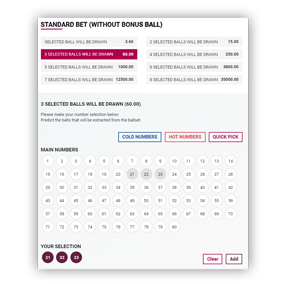 You can improve your odds by choosing to predict the outcome of 1, 2, 3 or 4 numbers from a draw from the "BET TYPE" option. You can also bet on the outcome of the bonus ball in some draws. Select the numbers you wish to choose for your prediction according to your chosen "BET TYPE".
SUBMIT YOUR BET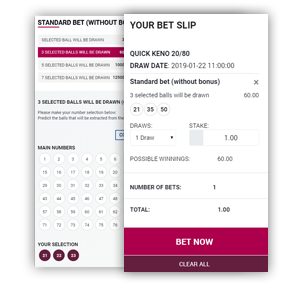 Enter the amount of money you would like to bet with and submit your bet. You will receive confirmation via SMS or email detailing your bet. Winners will be notified via SMS or email and your betslip will display your winnings. All the draw results are displayed on Betway's site for your convenience!
Betway Lucky Numbers allow all customers to place bets on the outcomes of a wide range of international betting markets.
Register an account now and start betting on a full range of international lottery markets.
How to bet on Betway's Lucky Numbers
Navigating to the Betway Lucky Numbers page will automatically display the next 5 upcoming international betting markets that you can bet on. The carousel will also allow you to choose a specific market, with multiple draws taking place on a daily basis.
Betway offers Lucky Numbers betting on a wide variety of international markets:
South Africa
Australia
The United States of America
Italy
Greece
Russia
Germany
Canada
Regular Draws
Regular Draw bets will allow you to choose your own numbers. If your picks match the results, you will win your wager. The prize will be a multiple of the stake and the odds within the bet market.
Draw Sum
Draw Sum will allow you to wager on the outcome of a market, e.g. whether the sum of the balls drawn will be odd or even. Remember, there can only be one unique bet per outcome for the side markets.
Once you have selected your bet option, your bet slip, together will all the options you have chosen, will be displayed. You can then place your bet.
Choosing your wager options
You will also be able to change your stake for every entry. To keep you informed, each of your wager entries will be displayed on your betslip, as well as your possible winnings over the course of all of your chosen draws.
The growing popularity of Lucky Numbers
Lucky Numbers have always been incredibly popular around the world but are not usually available to international customers. It has taken different forms, shapes and titles, but the premise has generally remained the same through the years.
Lucky Numbers embrace of the internet has not only expanded the game's popularity but has altered the way the game is played, won, and experienced. With great change comes new innovation and therefore new features and products.
Betway also offers all customers the chance to bet on all the most popular sports from around the globe.
Each game week Betway selects four matches that will stand between you and the 4 To Score prize. All you have to do is select the player you think will open the scoring in each match. If you think the match will end in a goalless draw, choose No Goalscorer.
Your first entry is FREE and you can unlock another 4 entries by placing bets to the value of R 50 for each additional entry. Please allow for up to 24 hours for your bets to unlock entries. Bets and predictions need to be made before the round closes as they do not carry over. Player odds will be displayed when they are available.

Not sure who to choose? Use the Random Pick button and let the game do the hard work for you.

To get started:
Click on Play For Free button on our banner or navigate to the entry page
Pick one first goalscorer from each of the four chosen matches i.e. 4 selected players in total
Submit your predictions
You can also unlock additional entries by completing the weekly settled bet targets shown on the 4 To Score entry page. Entries need to be submitted 10 minutes before the round closes
Late bets made in the current round and their resulting unused entries do not carry over to the next round.
If you select a player and they do not form part of the match day team your selection will be deemed incorrect and you will not be able to change your selection once it is submitted
How to play Betway South Africa

All you need to do to bet at Betway South Africa is to visit the website, click on Sign Up and create your account.

Do I need to FICA my Betway account

Yes, you will need to complete the FICA process at some stage to verify your Betway South Africa account.